…I can do better. Just kidding!

FRENCH VANILLA OREO ICE CREAM

2 c. Half 'n Half
2 c. Heavy Whipping Cream
3 egg yolks
3/4 c. sugar
3 tsp. PURE (REAL) Vanilla Extract
15 Oreos (crushed)
In a medium sauce pan bring half 'n half to a simmer (do not boil). Meanwhile, in a large mixing bowl beat egg yolks and sugar rapidly for at least 3 mins until mixture becomes very pale yellow (thick & creamy consistancy).
Once half 'n half reaches it's simmering point (almost boiling), temper the yolk mixture by adding part of the simmering half 'n half while whisking very rapidly (this will insure the yolks will not scramble). Continue adding half 'n half until half of the simmering half 'n half is mixed with the yolk mixture. Then pour the tempered yolks into the pan with the rest of the half 'n half. Return to heat and simmer until mixture thickens enough to coat the back of a spoon (DO NOT BOIL).
After the mixture has thickened, removed from heat and immediately add the cream, stirring constantly to combine. Add vanilla extract.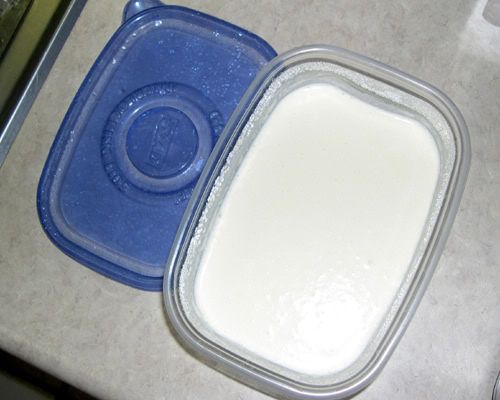 Refrigerate at least 6 hrs
before mixing in your ice cream mixer. I prefer allowing the ice cream mix to rest in the fridge for 24 hrs.
Mix according to machine's directions. Once the mix reaches a soft-serve consistancy, add the crushed oreos and continue mixing until combined.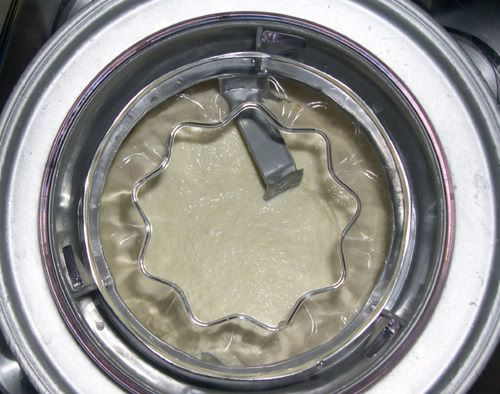 "milkshake" consistency after 10 mins in the Cuisinart

stiff "soft serve" after 20 mins in the Cuisinart. time to add the Oreos!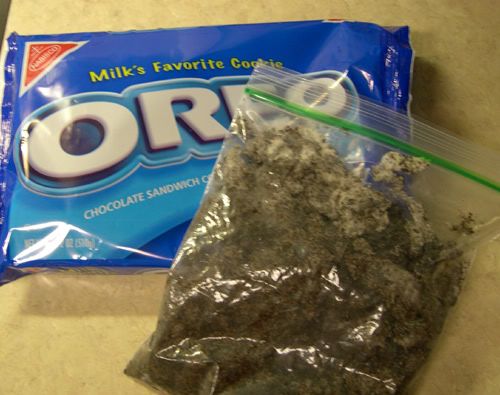 mmmmmmm … crushed Oreos … *drool*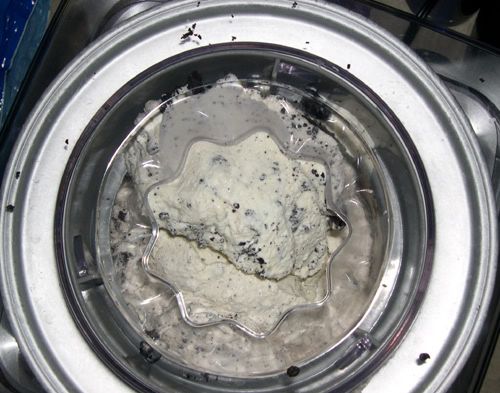 IT'S READY!!!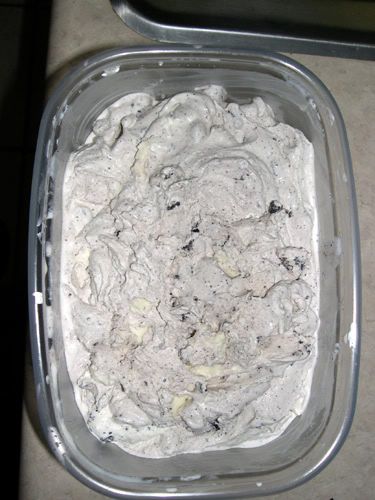 SCHAAAWWING!!!